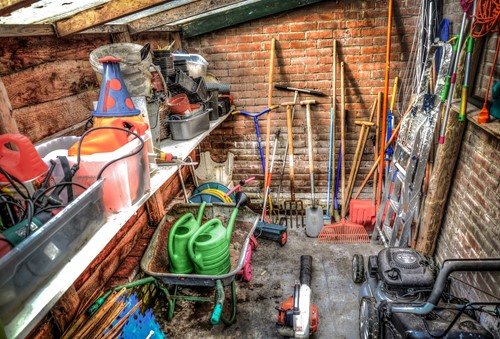 Image by Rudy and Peter Skitterians from Pixabay

If you're like many busy gardeners, your garden shed isn't as organized as it could be. Perhaps you've been telling yourself for quite some time that you're going to get around to giving it an organizational makeover but run short on inspiration whenever you try to brainstorm a game plan. You've probably got items in and around your home that can easily be repurposed as containers for various garden supplies in your garden shed. Following are just five suggestions and how they can be used.
Milk Crates
Milk crates make excellent all-purpose containers for a variety of items. Because they're stackable and easily labeled, you can easily customize them to meet your individual needs and preferences. They're good for keeping bottles and boxes of garden chemicals organized. Simply stack them in a corner or along a wall with the labels facing outward.
Bushel Baskets
If you buy fruit in bulk from a local orchard, you probably have a few stray bushel baskets hanging around waiting to be used for something. They're ideal for storing loose potting soil. For instance, when you're cleaning up your hanging baskets, window boxes and other containers after the season is over, you can easily empty the potting soil into bushel baskets so you can use it again in the spring.
Toy Chests
Have your children outgrown their toy chests? If so, you can use them in your garden shed to store a variety of things. They're good for keeping garden sweaters and gloves handy, and they can also be used as dry storage for seeds. You can even keep a few snacks in them to keep them safe from rodents or bugs.
Flower Pots and Planters
Keeping a few empty flower pots that you no longer use on hand provides an ideal catch-all place for any stray items that you aren't quite sure what to do with. Think small items such as plant tags, half-full seed packets and even the occasional garden glove that doesn't seem to have a mate can all find temporary homes in an empty flower.
Bookshelves
If a recent or current home remodeling project leaves you with some stray bookshelves, consider installing them in your garden shed. They're excellent places for storing all sorts of items from boxes or fertilizer to a few gardening books and magazines. Placing one of them as high as possible helps keep dangerous garden chemicals, such as weed killer, out of the reach of curious young minds and hands.
You'd be surprised at how many ordinary household items can be repurposed for storage in your garden shed. Perhaps the best thing about it is that the creative aspect makes it a fun adventure rather than just another home maintenance chore.