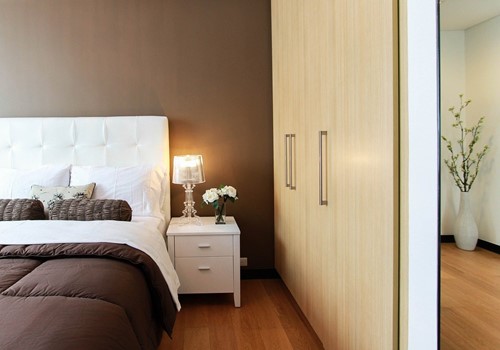 Bedrooms might seem like simple rooms to determine a layout for in your custom home. However, you can end up with bedrooms that don't provide enough space or bedrooms with inconvenient layouts if you're not careful. Keep the following tips in mind to make sure you have bedroom layouts that provide you and your family with comfort and convenience in your new home.
Determine the Size
The size of your bedrooms is an important factor to consider when choosing a layout. Whether you're designing a main bedroom for adults or a child's room, you'll need to make sure the room offers enough space for furniture to fit comfortably. Keep in mind that bedrooms with a more spacious feel might provide a better sleep environment for you and your family, so plan accordingly.
Leave Space Around Furniture
Whether you're choosing a layout for a bedroom with one large bed or two smaller beds, you'll need to ensure that there is plenty of room around these items. This helps provide space to get in and out of bed and to move around the room without bumping against furniture. Beds should have a couple feet of space at minimum between them and the wall unless you plan to have beds go right up against the wall. Don't forget to make sure there will be space around dressers, nightstands and other items as well, so you and your family can move around easily and fully open and close drawers without hitting anything.
Plan for Storage Space
Bedrooms typically have at least one closet for storage. When planning your bedroom layouts, consider where to put closets and how big you would like them to be. To save on wall space, consider including a deeper, walk-in closet for storage. If you're unable to include deep closets, you might need to take up a bit more wall space and put in a wider closet to ensure enough storage space. You can also include other kinds of built-in storage areas as part of the layout, such as built-in shelves around windows or on walls.
Consider Window Placement
All bedrooms in your home should have at least one window for safety, as well as airflow and light. You can put windows on one wall or multiple walls depending on where each bedroom is in your floor plan. However, be careful not to add too much natural light into your bedroom. This could create an uncomfortable sleep environment, especially on mornings when the sun rises earlier than you and your family do. If possible, consider placing windows opposite doorways in your bedrooms, since this can ensure good airflow when you have the windows and door open.
Include Additional Features
When you're thinking about the layout for bedrooms in your custom home, consider adding an extra feature or two. For example, include an area for reading, which might include built-in shelves close to a window for additional light. You might also consider having a built-in desk included in your bedrooms as a place to work or study. These features will take up wall space, so make sure you'll still have plenty of room to fit beds and other items, as well as space around them.